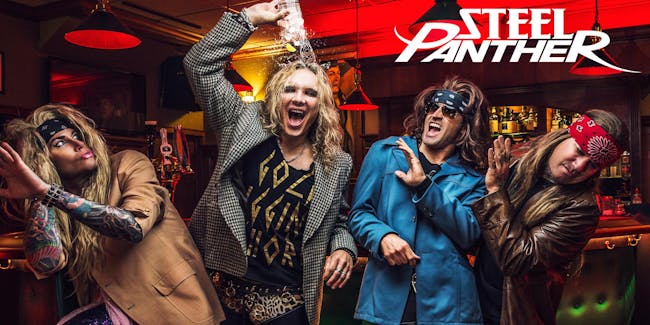 Presented By CABIN MEDIA & IMPACT LIVE!
STEEL PANTHER "Sunset Strip Live Canada Tour 2019"
It's A PANTHER PARTY & You're All Invited!
STEEL PANTHER returns to Downtown Barrie with another serious Rock-Concert-Party, entertaining & masterfully executing rock anthems live aiming to get everyone laid. Steel Panther are a living, breathing study in the art of Hair Metal. With tongues firmly lodged in their cheeks, Steel Panther celebrate & ridicule all that was good & bad about the "great" 80's Hard Rock bands whose flamboyant stage shows & tales of excess with booze, sex & narcotics are the stuff of legend – all of which are perfectly repackaged within the four members of this band.
General Admission TICKETS for $45 All-In are now also available at the following OUTLETS:
LIQUID CHROME
SUNRISE Records
PITA PIT Bayfield St.
PITA PIT Dunlop St.
MAVRICKS Music Hall
VIP BALCONY/ FAST-LANE tickets are now very limited only available ONLINE for $57.50+HST and include Faster Entry thru VIP doors & VIP credentials for access to VIP balcony area with limited seating on a first come basis!

Produced by Cabin Media bringing world-class artists to perform live in venues across Ontario!

Venue Information:
Mavricks Music Hall
46 Dunlop St. West
Barrie, ON, L4N 1A4